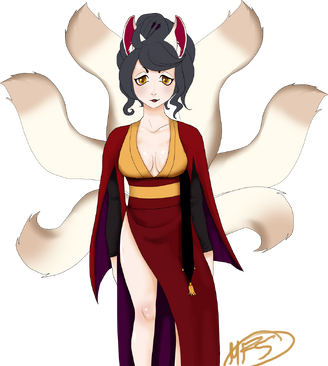 Michiko is Ryuu's second wife. She wormed her way into wife status which put her on Kimiko's bad side. She and Kimiko compete for power but Michiko is much more clever. She is the mother of Goro, whom she has groomed into a clever little schemer like herself. She knows how to play Ryuu, but even she was surprised by the contest.
Fun Facts
Sex: Female
Species: Kitsune
Enjoys smoking
Plays tricks on her son to keep him sharp
Ryuu is her 2nd marriage, she was a widow before under mysterious circumstances
Close advisor to Ryuu
Favorite Tea: Dragon's Blood Tea
Special Power: Fox Fire, teleporting, floating
Goals: Get Goro on the throne, ???
Love Life
Love bores her now. It is only a tool in her arsenal of tricks to be used like any other to further her plans. She still uses her body freely to gain the necessary footing on her rise to the top. 
Love Style: Insincere/Sadist